Are you getting ready to completely remodel your kitchen? Then you are most likely looking into updating your cabinets as well. Cabinets are an integral part of any room, especially the kitchen, and they can truly make or break the room style.
Choosing the right cabinets can be intimidating and overwhelming, especially when you choose custom cabinets. Custom cabinetry is an incredible option to truly get everything you want out of your new cabinets, from the design and storage elements to hardware, material, color, and finish.
Check out this step-by-step guide to make choosing your new cabinets a little easier and streamlined.
1. Determining Where the Cabinets Will Go
Whether you are replacing cabinets in a pre-designated space or you are completely remodeling your kitchen layout, it's important to decide where those cabinets are going. At Daso Custom Cabinetry, our designers can help you better visualize what new cabinets will look in your space once you determine where you'd like them to be.
2. Decide on Cabinet Construction
There are two different types of cabinet construction to consider: frame and frameless.
Framed cabinets have a frame at the front of the cabinet box, attached to the door. It gives the cabinet extra strength and dimension and allows you more flexibility when choosing door mounts.

Frameless cabinets rely on a denser box construction. Due to their contemporary style, frameless cabinets have become a bit of a trend in recent years, but they do have drawbacks. Unlike framed cabinets, for instance, you are extremely limited in the type of door mounting, as you can only use full overlay doors.

Once you decide which construction you would prefer, you can start thinking about the next steps – like material, color, and hardware. Settling on cabinet construction is much easier once you decide where your cabinets will go and what style you are visualizing for your space.

3. Think About the Materials
What do you want your cabinets made out of? This is a crucial part of the decision process, as it influences what designs are possible or makes sense for the material. The most popular choice is solid wood, but there are many material choices possible. Your Daso Custom Cabinetry customer representative will be able to help you understand the different materials available and help you figure out what kind of material is best suited for you, your project, and your budget!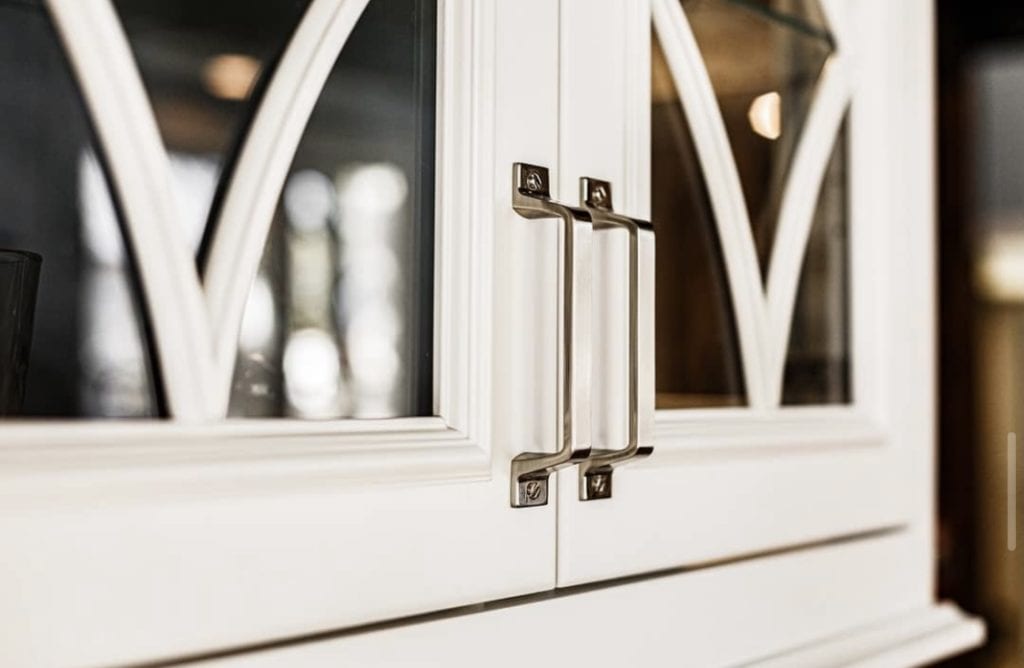 4. Cabinet Door Mounting + Styles

This is where your style and design preferences can come into play and you can really customize unique cabinets for your space! For cabinet door mounting, there are three main types of door mounting: full overlay, partial overlay, and inset. While framed cabinets can use any of these, frameless are restricted to a full overlay. Here are the major differences:
Full Overlay
The door covers the entire face of the frame.
Partial Overlay
The door only partially covers the face of the frame, usually exposing 1" to 2".
Inset
The door is set inside the face frame instead of on top like an overlay.
Once you choose a mounting style, you can move on to cabinet door styles. There is an abundance of styles to choose from, so you are sure to find one that is perfect for the style of your new kitchen. This is where your design personality can truly shine and complement your space. For instance, do you have a collection of beautiful china or crystal you'd like to show off? Then perhaps glass-front doors are a good option for you! Your cabinetry should be functional, but it should also be representative of you and your personal style. 
5. Finishing Touches
Once you have decided on all of the factors above, you can focus on your finishing touches! One of the most fun ways you can customize your cabinetry is through the hardware you choose for the cabinet doors. There are hundreds of styles to choose from, so keep in mind the general style of your kitchen (for example, is it rustic or modern?), and the practicality of the hardware (knobs are generally used for doors and pulls for drawers).
While choosing cabinets for your kitchen remodel may seem like a daunting task, ultimately it can be very fun and rewarding to design something that perfectly fits your style, taste, and space!
At Daso Custom Cabinetry, we love helping our customers design, handcraft, and install their dream cabinets! If you are in the middle of a kitchen renovation project, we would love to chat with you and help you find the perfect, customized cabinets.