Handcrafted Cabinets Made in Ohio
What do you envision when you think of your dream home?
Plenty of space and storage? An oversized island? A large farmhouse sink? A perfect place for you and your family to live, eat, play and sleep.
You don't need to compromise the beauty of design for functional space. If you are looking for innovative storage space, we can design that. Our drafters are industry experts that give you the best options and ideas for your remodeling project! 
Our custom cabinets are just what they sound like – totally customizable! If you are looking for drawers and cabinets that have specific features, we will design and build it! Customizing your cabinets allow you to ensure that no space is wasted. New cabinets can truly transform your kitchen both aesthetically and efficiently! 
From recommending material for your cabinets based on your need and budget, to helping you determine the paint, stains, and hardware option, our expert team is here to help you define and design your vision! Whether you prefer cabinets that are more traditional or you want bold cabinetry to be the focal point of the room, we can design and build it!
We build custom cabinets and drawers with the convenient storage options, made to store your items! Designed and built with You in mind.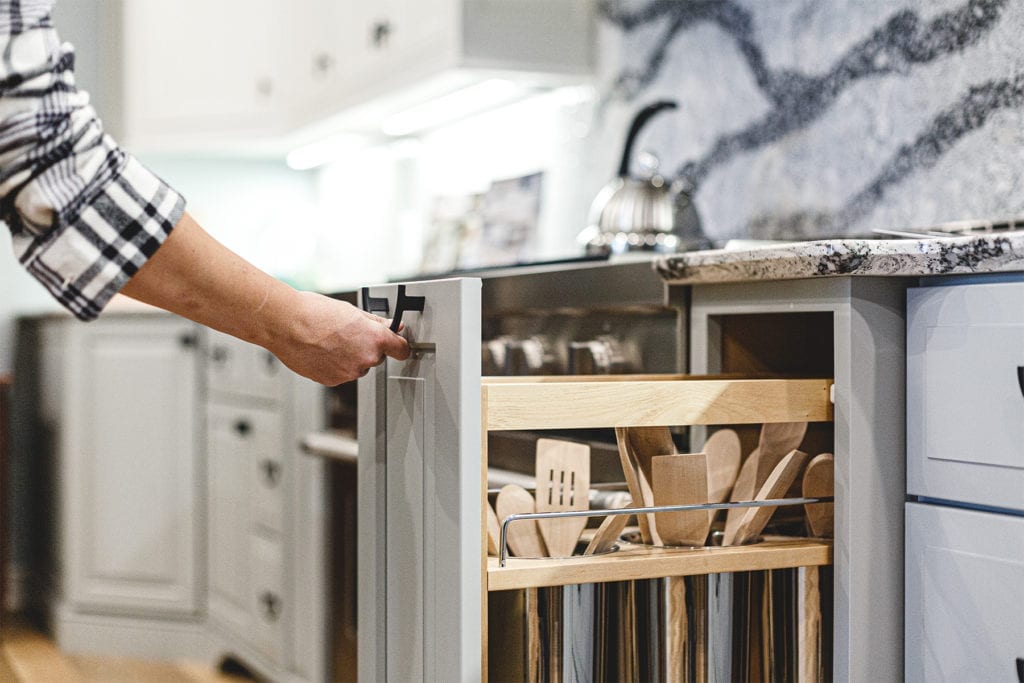 Kitchen & Home Remodeling
Our team of client coordinators and drafters are here to help you create the kitchen, bathroom, bar, or office of your dreams.  We are spending even more time at home today, so isn't it worth it to invest in a luxury space made for you and your loved ones? Let us help.
Whether you are remodeling your home or building a new home, your plate is full. Our team of well experienced project managers and designers are here to help you through every step of the way. From brainstorming design ideas to picking out the right finishes, we are just a visit, call, or email away!
From the materials we use to the work we put in fabricating, we take special care in each and every project.
Free Consultation
We offer a free virtual or in-home consultation to expertly measure your space.
Visit Our Showrooms
We have two showroom locations in Dublin, Ohio & Strongsville, Ohio available for appointments.
Quality You Can See
We pride ourselves in building cabinets with craftsmanship and quality that you can see!
Make Your Kitchen Dreams A Reality
Don't settle for cabinets that aren't made to best serve you and your families needs. Invest in the extra details of design, comfort, and functionality of Daso Ohio-made custom cabinets.
For more information or to schedule your complementary consultation, complete the form below or give us a call today!