Build The Quality Home You Deserve
We are a family-owned design, build + remodel cabinet company helping families across the U.S.A. create homes they love since 2000.
Why Choose Us As Your Next Home Remodeling Contractor + Custom Cabinet Makers
We understand that finding the right people to work on your home remodeling project can be a real challenge. At Daso Custom Cabinetry we'll respect you, your home, and your time as if it were our own. And we'll give you a new space made just for you and your loved ones.
When you work with our Ohio cabinet company, you can expect:
Since founding the company in 2000, Jeff Daso, Owner & self-taught woodworker, has led Daso Custom Cabinetry from a one-man shop into a thriving business.
Over the years, the business has grown from a small family garage on a dairy farm in the cornfields of Wayne County, Ohio to a 35,000-square-foot state-of-the-art cabinet manufacturing facility in Creston, Ohio and 3 showroom locations across Ohio.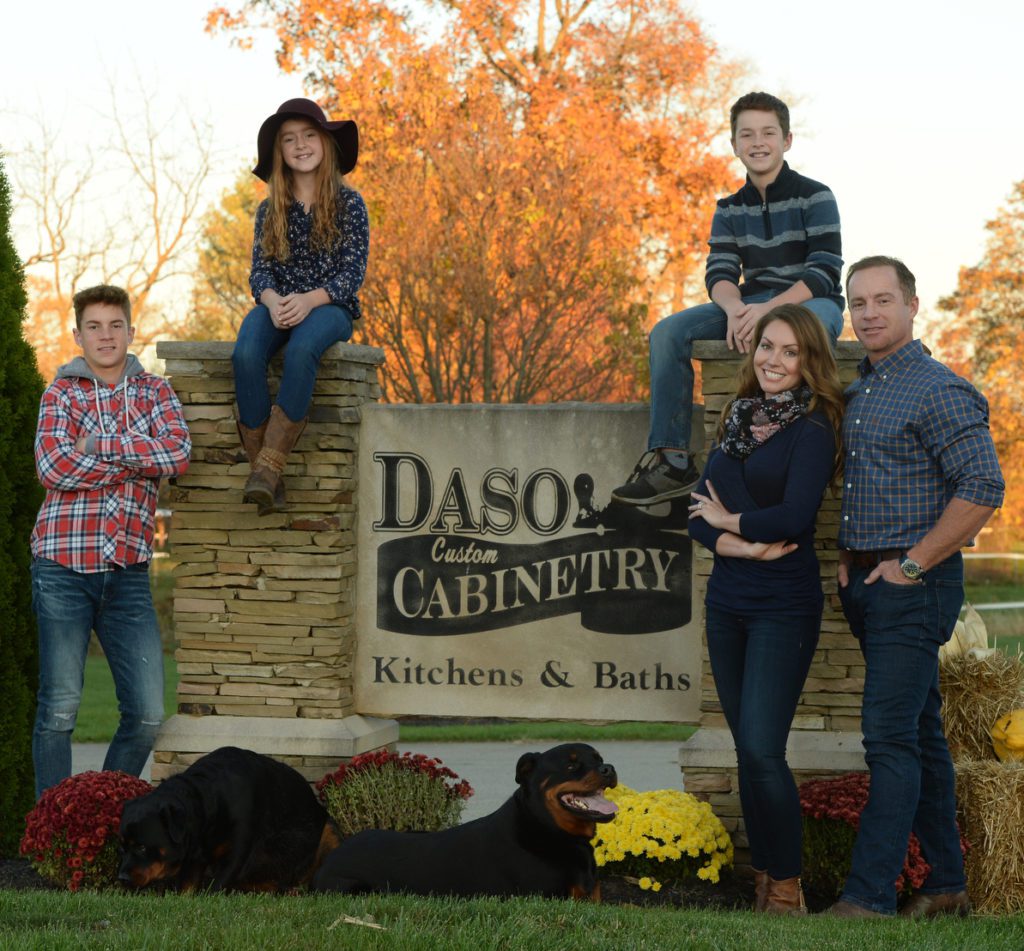 What do you want to build?
Whether you've just started pondering the idea of doing some work on your home or have been thinking about the home project for some time, you can count on us to bring your ideas to life.
Kitchens and bathrooms are our specialties, but we build everything from entertainment centers and fireplaces to bars and walk-in closets. 
Our finished cabinets are like fine furniture, beautiful and built to last.
Over the years, our team has successfully renovated many homes across the state of Ohio and built cabinets in homes across the country. We are proud to show our final results. Every photo you see on our site is from our work for home remodeling projects. 
Take a look at our gallery and find inspiration for your own home remodeling project.
Remodeling is stressful. At Daso, we work in a way to keep the experience as low-stress as possible so you have the best home remodeling experience possible along every step of the journey.
Happy Homeowners like you say..
The connection we have with our clients determines how the projects will look at the end of the design process. We must understand our clients and bond, to be a part of the dream. Your dream is our dream.
As well as being very knowledgeable in their profession, they were extremely helpful and are super nice people. As the word 'custom' implies, your only limitation is the limit of your imagination.
Originally I planned to do the entire project myself, but working with Daso allowed me to complete a good deal of the project while getting cabinets designed specifically for the space.
We were previously living with laminate countertops, old carpet, and outdated cabinets. Now, we live in a commercial photo — what I mean by this is that our kitchen and entire first floor looks exactly like what the high end cabinet maker showcases in their photos.
If you have any home remodel projects you are looking to complete, you need to call Daso Custom Cabinetry. Start to finish we have had such a wonderful experience. The quality of work is unlike anything I've ever seen and the attention to detail was perfection.
Turn your home remodeling dreams into reality
A family-owned company helping Ohio families transform their house into a home they love, since 2000.